A Timeline of the May 22 Tornado
1:40 p.m.
Chief Meteorologist Doug Heady was not scheduled to work on Sunday May 22, 2011.  Five weeks earlier he knew there was a good chance for severe weather that day by using his long range forecasting pattern.  A few days out he knew there could be some tornadoes.
At 1:40 p.m. Doug checked the data from his home, called weekend meteorologist Brian Davis and told him to get to the station as quickly as possible, and made this post on his Facebook page:
"Extremely unstable airmass. Tornado watch is in effect with extremely strong supercells blowing over the next couple of hours. The main threat is large hail and strong tornadoes. Looks like I better go to work."
3:58 p.m.
Doug's first of many severe weather cut-ins. 
Severe thunderstorm warnings had already been issued for eastern Wilson County and western Labette County in Kansas.
But it is hail and mid-level rotation just north of Parsons that prompts the cut-in.
For the next 90 minutes several tornado warnings are issued and several funnel clouds are spotted as the system slowly tracks toward the east through Labette County and Cherokee County.
Fortunately, none of the funnel clouds dropped.
5:36 p.m.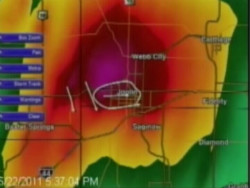 Wall-to-wall coverage begins on KOAM and Fox 14 after there are confirmed reports of funnel clouds east of Galena, Kansas and the western side of Joplin, Missouri.
The National Weather Service will eventually confirm that at 5:41 an EF-5 tornado touched ground on the southwest side of Joplin.
But by 5:43 trained weather spotters have confirmed with Brian and Doug that a tornado is on the ground.  Doug warns viewers that "you can't see it coming" because of the rain shield.
The tornado is moving across the area at about 20 miles per hour, giving Doug just enough time to warn those watching by pinpointing where the tornado is on the radar.
Despite its size, because it is rain wrapped, the tornado still can not be seen from the tower cam at 7th and Range Line.
5:49 p.m.
As it approaches Main and 20th Street, glimpses of the wedge tornado can finally be seen on the tower cam.
"I know it is doing damage, but I didn't know to what extent.  At this time we weren't getting any reports in on what it was doing.  All I knew was it was tearing through town and we were getting some damage." – Doug Heady
As the tornado passes Range Line the tower cam loses power and goes off.
"At this point I realize this is a major tornado doing massive damage across the Joplin metro… I continue the wall to wall coverage of the tornado passing through the city.  Still at this point in time I know it has done damage, but I still don't know to what extent." – Doug Heady
5:57 p.m.
The hook on the radar is very close to the intersection of Highway 249 and I-44 and Doug reports the tornado is about to cross the Interstate.
At this point the tornado, still on the ground, is moving east at about 35 to 40 miles per hour.
Doug reports the radar signature of the tornado is strengthening, and could be getting stronger.
6:03 p.m.
Tornado confirmed to still be on the ground just west of Sarcoxie.
Golf ball to baseball sized hail is also reported.
Tornado warning continues for eastern Jasper County and northern Newton County.
The first official reports of damage start to come in:  power poles down, trees down and homes damaged through the heart of Joplin.
6:16 p.m.
Radar indicates tornado has lifted and is a funnel cloud.  Tornado warnings continue throughout southwest Missouri and new warnings are issued from a separate cell in northeast Oklahoma.
Extensive damage has been confirmed and it is clear St. John's Regional Medical Center through Range Line took a hard hit, numerous homes are gone, people are trapped in their homes, and numerous cars and semi's are flipped on I-44.
Damage is reported as far north as 7th street to the south of 20th Street.
"This is when it hit me that this is going to become a historic event." – Doug Heady
7 p.m.
Dowe Quick joins Doug in the studio for wall-to-wall coverage as severe thunderstorm warnings continue across the region and more damage reports to come in.
7:30 p.m.
A first report of confirmed dead comes in – 24 so far.  This is already higher than the May 4, 2003 outbreak that ripped through the viewing area and killed 22 people.
Communications are difficult with power lines and phone lines down from the storm.
I-44 is closed due to overturned tractor trailers.
Joplin High School has been severely damaged.  Fortunately, the graduation was held at Missouri Southern.
Reporter Lisa Olliges said in a phone interview later in the evening that emergency rescue personnel had been working to rescue people trapped in several buildings, including the Walmart at 15th and Range Line.
St. John's Regional Medical Center is severely damaged. Chunks of the building are gone and windows were blown out.  A resident living nearly 45-miles away from the hospital says his yard is now full of debris from St. John's, including medical supplies and x-rays.
Sports reporter Brandon Spiegel was in the St. John's area and spoke with Dowe and Doug during the wall-to-wall coverage about the damage in that area.
 8:40 p.m.
Dowe and Doug talk to Chief Videographer Aaron Thompson during the wall-to-wall coverage.  Aaron had been in the area of 20th and Rhode Island and confirmed damage at Commerce Bank and Papa Johns.
Aaron told Dowe and Doug that damage going east is "worse and worse" and said he was unable to get to Range Line from that direction.
"I didn't know where I was… street signs are just gone" – Aaron Thompson
8:45 p.m.
Photographer Crystal Albright talks to Dowe and Doug.  She had been at 15th and Range Line and said the Burger King is gone and King's Palace was catching on fire at the time.
She said a tractor trailer was turned over near the 15th Street Walmart, and the Plaza Apartments and storage facilities behind the Walmart also received damage.
10 p.m.
"Dowe and I continue our live coverage and we now know the full effect of what has happened.  We both sit in disbelief as we are reporting this massive historic tornado and what it did." – Doug Heady 
10:45 p.m.
At least 25 confirmed dead at the Joplin command post.
11:45 p.m.
The city of Joplin issues a news release saying Mayor Mike Woolston has declared a local disaster.  The release also says the Emergency Operations Center has been activated and is working with the American Red Cross, emergency management services and medical personnel of numerous surrounding communities to assess damage and assist those hurt.
The American Red Cross sets up a shelter at the Legget and Platte Center at Missouri Southern State University; and, the city and Joplin R-8 Schools coordinate transportation to help those left homeless.