Weathercall
A new service that delivers weather warnings to your telephone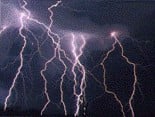 Many counties in the PITTSBURG-JOPLIN viewing area cover several hundred square miles.  Dangerous storms are often less than 100 square miles.  In the past, severe weather warnings were issued for entire counties creating uncertainty as to exactly where the threat really is.  The National Weather Service now uses a new and much more precise method to define a warning area called STORM-BASED WARNINGS that reduces the size of a warning area by an average of 75%.
WeatherCall combines this new method to determine a warning area with robust emergency telephone notification.  Using computerized mapping, WeatherCall matches the danger area defined by the National Weather Service with your address.  If your address is within the danger area of the weather warning, Chief Meteorologist, Doug Heady will deliver the warning message to the phone numbers you register, and also send you an email if you provide one.
Subscribe to the WeatherCall service and take the guess work out of storm warnings, 24 hours a day.  No longer will you hear the thunder and wonder if a dangerous storm is going to affect your location.  Learn how, for less than 2 cents a day, you can have this vastly improved severe weather warning service.

Only WeatherCall subscribers INSIDE the red box will receive a call, rather than everyone in Lawrence County's 613 square miles, eliminating false warnings.
Important things to know about WeatherCall before you sign up:
WeatherCall is a very precise storm warning service, which costs only $6.95 dollars per year to subscribe to.  When you register, your home or business will be assigned a latitude/longitude value which is stored in the WeatherCall computers, along with your telephone numbers and email addresses (if you have them).
 You may register up to 3 telephone numbers and 3 email addresses for each location.
You may register land line or cell phone numbers.
You may have the warning sent to a digital cell phone via SMS text messaging. For instructions, visit http://www.weathercall.net/ and click on the FAQ's.
You MUST provide a PHYSICAL STREET ADDRESS. Our system cannot locate Post Office Boxes, Mail Stops, Rural Routes, etc.
Tornado warnings are mandatory.
You may choose to also receive Severe Thunderstorm phone calls and/or emails, and Flash Flood warnings via email and SMS text messaging.
Please click on the link below to read the WeatherCall Subscriber Agreement.  You may print a copy for your files.  
If you do not use credit cards, you may click on the link below to print a manual registration form. Complete the application and mail with a certified check or money order made out to WeatherCall (we do not accept personal checks, sorry):
WeatherCall
P.O. Box 472
Parker, CO  80134
 Already registered and need to modify your account?
  WeatherCall Customer Care: 
info@weathercall.net
1-800-260-6695